Volunteer FAQ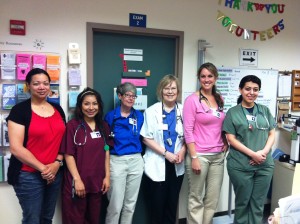 What commitment is required of volunteers?
Volunteers are asked to commit to a minimum of one two- to four-hour shift per month for one year. Exceptions may be made for busy health care providers (i.e., doctors, dentists, pharmacists), who would volunteer for a minimum of one shift per quarter. Volunteer consistency is critical to run effective clinics. Please review the requirements to volunteer before applying.
How long will it take to process my application?
To match volunteers' skills and interests with the clinic positions, potential volunteers must go through a screening process. Please allow up to two weeks for processing after submitting your application. At that point, you will receive a phone call to either arrange an interview with the program coordinator or to be placed on a wait list if your desired position isn't immediately available.
Is there a dress code for volunteers?
The dress code is casual professional. Scrubs are acceptable and help to present a professional image, but you are welcome to dress comfortably (no frayed jeans or low cut/revealing clothing). Please restrict the use of strong perfumes or scents, as some patients have sensitivities to them. We ask that all volunteers wear closed-toe shoes for their safety.
Will I be able to shadow a current volunteer?
Yes. The volunteer office will work with you to schedule a "shadow shift" so you can observe a volunteer in the role that you are applying for.
Can I volunteer on evenings or weekends?
Volunteers work at the clinic during our evening hours on Tuesdays and Thursdays.  We are not open on weekends. Check our services schedule for more information.
How old do I have to be to volunteer?
The minimum age is 18 years old. Special projects may be available for volunteers under the age of 18; please call the volunteer office for more information at 360.313.1389.
Do you accept interns or externs?
Yes, on a case-by-case basis. Please consult with the intern/extern coordinator at your school to be considered for an internship or externship.
Does the Free Clinic accommodate large groups of volunteers?
We may be able to arrange a group project. Call the volunteer office at 360.313.1389 to inquire about opportunities.