Prescription and Medication Assistance
The Free Clinic of Southwest Washington offers emergency prescription and medication assistance for patients with qualifying medications.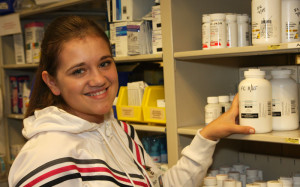 The Free Clinic of Southwest Washington is not able to fill prescriptions for mental health medications or family planning medications like birth control. We do not carry pain medications or narcotics. Please call ahead to make sure your prescription or medication meets the criteria for assistance.
We offer help for ongoing and chronic medications on a one-time per calendar year basis. If you have any questions or want more information, please call 360.313.1395.
MEDICATION ACCEPTANCE POLICY
The Free Clinic of Southwest Washington is unable to accept donations of open or expired medications or medical supplies. We also are unable to accept any narcotic, mental health, or family planning medications. We do not accept any medication donations from the general public. If you need to dispose of open or expired medications contact your local Fred Meyer or Safeway pharmacies or the Central Transfer and Recycling Center. For disposal of narcotic medications, contact your local police department.
St. Vincent De Paul and Salvation Army offer some help for pain medications (contact St. Vincent De Paul at 503.235.7837 or Salvation Army at 503.794.3200). For mental health medication assistance you can contact William Temple House (2023 NW Hoyt Street, Portland, OR 97209 : 503.226.3021: Food, hygiene products, children's clothing, psychotropic prescription drug assistance and other assistance : Monday – Thursday, 10 am – 3 pm).
The dispensary is staffed by volunteers during urgent care clinics and prescriptions are dispensed by volunteer pharmacy professionals. If you would like to become a volunteer please visit the volunteer page.