Project Access
Project Access coordinates donated specialty care services for low-income, uninsured Clark County residents.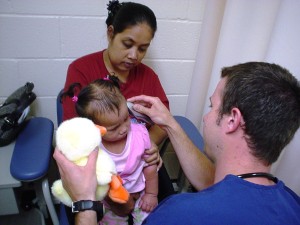 Project Access works with physician specialists, clinics, and hospital systems within the community to match donated care with patients who have been referred to the program. In 2012, Project Access helped coordinate more than $5.8 million dollars worth of care in Clark County.
Patients
If you are a patient interested in learning more about Project Access, click here.
Providers
If you are a provider and want to know more about Project Access, click here.
Questions about Project Access?
Click here for Frequently asked questions about Project Access.
---
HISTORY
The Project Access model of connecting physician volunteers in the community with low-income, uninsured patients began in 1996 in Asheville, NC. Patients are seen in the specialist's office or hospital, allowing comprehensive care to be delivered in an appropriate setting.
Project Access was started in 2007 in Clark County. Several local physicians observed a lack of access to specialists for uninsured patients in the area. In 2013, the program enrolled 1,011 patients and coordinated 3,353 appointments.